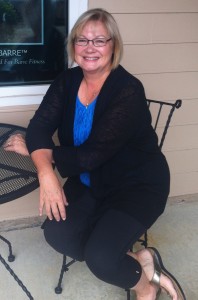 Donna came to Pilates to maintain lifelong health and to find a holistic exercise. After three years, Pilates has helped her stay active and increased her energy.
What are the three things you like best about the center Studio?

I like the time I spend in class or in private lessons. The practice of Pilates requires a focus that separates me from the business and stress of my day. When I settle in to a lesson in the studio, I feel like I have arrived at my little oasis for a brief respite.
I like the instructors – their commitment to providing quality instruction, their attention to detail, and their efforts to push me to keep moving forward.
I like the variety of options – from equipment to props, from private lessons to group lessons to home workout planning, the personality of the instructors, and teaching styles.
What did it feel like when you first started lessons at the center?
a. It is my belief that a successful Pilates practice is all about the details, focusing and making the effort to position the body and correctly move through the exercises. When I first began Pilates, I seemed to be unaware of the smaller muscular control required for movement. My "mind-body" connection was somewhat detached as I begin to learn the mechanics and patterns of movement. The individual attention I received helped me to "pay attention" to my body as I work out, so that I can make the most out of my practice. My instructor was absolutely marvelous! She was attuned to my learning style and made it easy to understand the different exercises as well as the mechanics of the exercise. As I have taken more classes and private lessons from different instructors, I have learned that each teach in a different way and I learn something from the different teaching styles and perspectives.
How has Pilates helped you reach your Health and Fitness Goals?

Throughout my life, I have been physically active and gone from one modality of exercise to another as fads and my interest came and went. Now, my fitness goals revolve around achieving lifelong health and to find a fitness routine which will help me to maximize  strength, flexibility, and functional  movement that I can truly follow the rest of my life. I have been practicing Pilates now for a little over three years and have found that the fitness I enjoy when I keep up my practice translates into a greater vitality in all of my daily activities.
4.  If you had a friend who was interested in starting Pilates but wasn't quite sure about it, what advice would you give him/her?
I would encourage them to try a private lesson or duet with someone of equal skill and learn the basics correctly. Give it some time and be patient as you begin to move forward with instruction. You can do mat workouts  almost anywhere, so find a routine (doesn't have to be long) to reinforce what you learn in the studio.  Keep up the practice and reap the benefits!