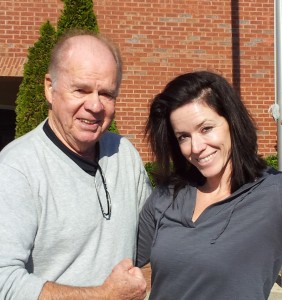 At 78 years old, Bill Henslee shows no signs of slowing down. His twice weekly workouts at the center keep him in tip top shape and enjoying all of life's activities.
As we age, everyday tasks can take on a whole new meaning, becoming more challenging as our body become less flexible and adaptive. Bill Henslee came to The the center feeling every bit of the 78 year old man he was and ready to change that. Bill began training with Kristine (see picture above) in early September 2012.
"Kristine is awesome. She listens and observes, instructs and demonstrates, motivates and encourages, and presents me with a challenge to overcome each time I train with her. I can do things now that I didn't think possible at my age. I leave each workout feeling both proud and stronger, mentally and physically."
Pilates and personal training with Kristine has helped Bill with his range of movement and flexibility , allowing him to better function preforming everyday tasks (not to mention he looks great too!).
Kudos to Bill for sticking with it! Keep up the fantastic work!
From East Cobb and Roswell to Sandy Springs and Atlanta, the center Studio in Marietta has helped clients improve core stability, core strength, flexibility balance and posture for over six years.  We specialize in the STOTT PILATES method and our fully equipped studio contains reformers and all the other Pilates goodies. Stop by with your core and we'll get you strong, stable and fit.