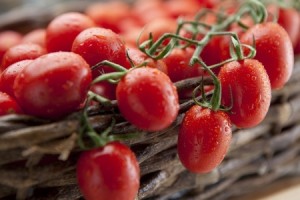 Use the abundance of delicious summer tomatoes in this refreshing salad with unexpected ingredients. The salad is super quick to make and goes great with grilled meats.  
Ingredients
4 cups chopped fresh tomatoes (I like to use grape tomatoes)
2 tablespoons extra virgin olive oil
2 teaspoons balsamic vinegar
1 tablespoon grated fresh ginger
2/3 cup chopped mint leaves
sea salt and black pepper to taste
Directions
Toss the tomatoes with the oil and vinegar and season with salt and pepper.  Just before serving, toss with the mint
This recipe was inspired by a recipe from Real Simple Magazine.