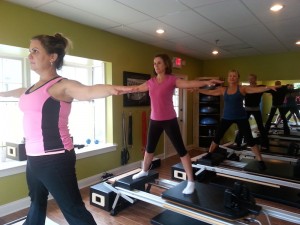 It's that time of year…..school is out, schedules slow just a bit, children are in camp so why not make time for yourself. How about an opportunity to work on your overall well being? Pilates is an amazing way to strengthen your core, create long lean muscles, improve your balance and flexibility, recover from injury, improve your mind/body awareness and have a blast doing so.
Lauri is teaching some new classes at the center Studio that will help you with all of those things and more.
Here's the SCOOP (pun intended):
These lessons begin on August 2 and run through September 6
MAT with small equipment (Group Class)
ŸPilates using small equipment (barrels, bands, balls, fitness circles etc..) to enhance core connection and build overall strength. You will be amazed at the improvement in strength and tone from adding these props.
Saturday mornings @ 10:00 am   – Limited to 8 lucky individuals 
Athletic Focus on Reformer Equipment (Semi-private Lesson)
Ÿ A vigorous workout to say the least. Challenge stability, endurance, coordination and balance while incorporating the principles of STOTT PILATES. You will use the V2Max Reformer, Chair, Tower as well as a variety of small props and equipment. A great workout on its own or as cross training. Build strength, tone, balance, coordination and mobility. This workout will be safe but fun. Instructor approval necessary to keep all participants happy and healthy.
Monday mornings @ 10:00 –  Limited to 4 people. Just one spot left.
Total Body Focus on Reformer, Chair and Tower Equipment (Semi-private Lesson)
Ÿ Strengthen, Stretch and Tone your entire body. This semi-private format incorporates the best of small equipment and machines. Each week you will explore a different machine (reformer, tower, chair) as well as small equipment (balls, weights, rings, bands, foam roller). No more fitness plateaus; your body will respond to this ever-changing (and challenging) format. Open to all levels with instructor recommendation.
Friday mornings @ 10:00 or Saturday mornings @9:00 – 2 spots full/2 spots available in each time slot
Here's what folks have to say about Lauri….
"Lauri is just a pleasure to work with as a trainer. She knows that I like to mix things up so that I don't get bored and always has something new to try as a change of pace. I have improved so much working with her these past 3 years." – Lynn Wells

"Lauri is plain FUN!! She always provides me with a different workout. I have never been this fit or looked this good before." – Susan Rifkin
Each of the classes listed will begin August 2, 2014 and must be completed by September 6, 2014. If you miss one of your scheduled classes, there will be others offered each week that you can hop in to if space allows.
Call your girlfriends, bring your husband or your mom and let's get this going! Whether you bring friends or make new ones, working out in groups is the best….4 weeks of small group mat pilates for $100 or semi-private pilates twice a week for 4 weeks for $320. Space is limited – call Arlene at 770-862-5674 today to get started!
PS – mention the special code LAURI when registering to receive $10 off purchases less than $150 and $20 purchases over $150.