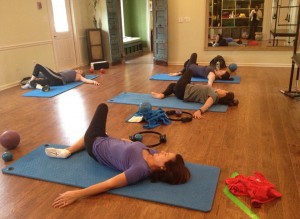 Summer is the perfect time to change up your exercise routine.  Mat Pilates classes will build core strength, stability and mobility faster than any other form of group exercise.  The STOTT PILATES method provides safe and effective modifications that benefit everyone from beginning exercisers to experienced pilates practitioners.
With morning and evening choices, you can find something that fits into your busy schedule.
Don't delay! Enroll now to ensure your spot.
6 Week Series begins Monday June 15 and Ends Thursday July 30
Mondays and/or Wednesdays at 7:00 pm
Tuesdays and/or Thursdays at 8:00 am
Cost:
$16 per class for three times a week  Purchase Here
$18 per class for twice a week  Purchase Here
$20 per class for once a week  Purchase Here
$25 per class to drop in  Purchase Here
First come, first serve……. Classes are limited to ten participants and will not run with fewer than four.
Reply to this email if you have questions or call the amazing Arlene at 770-862-5674