Pilates + TPI = A Better Game
GOOD GOLFERS ARE FIT
If you follow golf, you may have noticed that most of the players look athletic and strong. It's no secret that the game of golf has changed over the past decade. Many pros have used the Titleist Performance Institute (TPI) to transform their bodies and get the most out of their game. The Titleist Performance Institute is one of the nation's leaders in golf performance.
WHAT IS GOLF FITNESS?
Golf fitness focuses on improving your ability to address the ball and to move correctly during all phases of the swing. As an example, poor shoulder flexibility can impact your ability to take the club head back, and cause you to come "over the top" during the downswing. Likewise, poor core strength can limit your ability to hold your posture and to generate power on the downswing.
OUR PROGRAM
The Center's Golf Fitness program combines pilates with the functional training program recommend by the Titleist Performance Institute. The program begins with a screen of 12 swing characteristics and conduct 16 physical fitness measurements. The results of your golf fitness assessment and swing analysis are used to develop a custom workout program designed to help you master simple solutions to improve overall performance.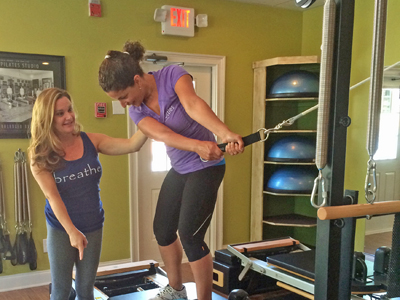 WHAT TO EXPECT
You will increase flexibility, balance, core strength, stability, muscle balance, rotary movement, strength and power, all of which help develop a more powerful and balanced swing.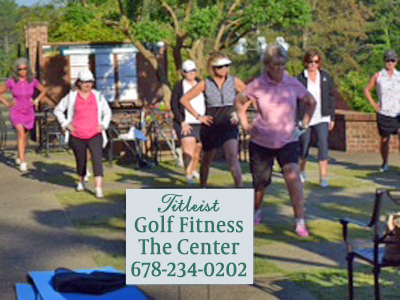 WE'LL BRING OUR PROGRAM TO YOU!
Our professionals are available for tournaments and charity events, providing fitness tips, warm up exercises and give-aways.
However, working with Lia has gotten me more flexible, a better golf posture and mentally ready to play better for a long time into the future. I feel great after my sessions!
look no further. get started today.
the center is located just north of the chattahoochee river
Convenient to East Cobb, Sandy Springs, Marietta and Roswell
910 Marietta Highway
Suite 220 upstairs
Roswell 30075
770-862-5674
Look for us in Paper Mill Village, across from Moxie Burger