About STOTT PILATES© Certification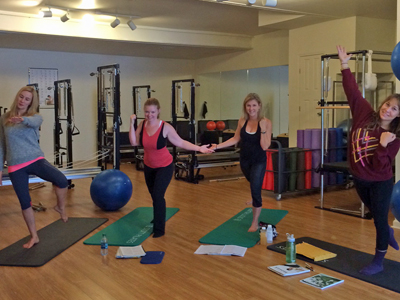 STOTT PILATES education is unparalleled in the industry for its thoroughness and quality. Certified instructors complete hundreds of hours of study and pass rigorous written and practical exams.
New instructors begin by completing a university level anatomy course or the STOTT PILATES 30-hour Functional Anatomy Course.
The basic certification program (Level 1) covers the exercise repertoire of the mat, reformer, cadillac, chair and barrels.Level 1 Participants spend more than 300 hours in classroom instruction, observation, practice teaching and personal practice. They learn the STOTT PILATES Five Basic principles; effective communication and observation skills, verbal cuing and imagery for performance enhancement and client motivation; modifications for specific body types, postural issues and conditions; theory and practice of postural analysis; and exercise layering related to effective program design.
Level 2 certification (an additional 50 – 75 hours) covers the advanced exercise repertoire and qualifies instructors to teach every exercise in the STOTT PILATES certification curriculum.
The Injury and Special Populations (24 hours) course teaches instructors to adapt pilates exercises to meet the needs of individuals with bone and/or joint issues and diseases.
The Instructor Trainer Certification is available on an invitation-only basis to exceptional teachers.  STOTT PILATES Instructor trainers are qualified to teach pilates certification programs and workshops. Mary Jo Falvey, the center owner, is one of only four individuals in the state of Georgia with this advanced certification.
Certified Instructors are required to complete six continuing education hours each year and may choose from the over 150 workshops offered.
look no further. get started today.
the center is located just north of the chattahoochee river
Convenient to East Cobb, Sandy Springs, Marietta and Roswell
910 Marietta Highway
Suite 220 upstairs
Roswell 30075
770-862-5674
Look for us in Paper Mill Village, across from Moxie Burger