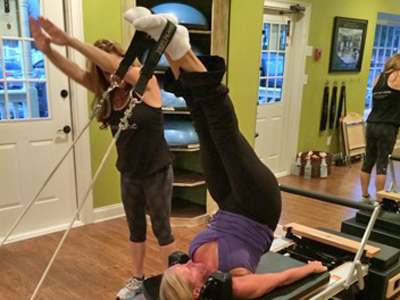 Lia Jordan
STOTT PILATES® Fully Certified Level 1
STOTT PILATES Injuries and Special Populations
Titlelist Performance Institute Certified Professional
TRX Certified

Teaching pilates provides a me with a creative outlet. I plan differently for each person I teach, and I often find different ways to personalize exercises to meet my clients' needs. I work with clients who have had hip and knee replacements, rotator cuff surgery, spinal fusions, osteoporosis and arthritis, and together we find ways to get strong and flexible without getting injured. As a golf lover, I feel that the benefits of pilates – core strength, stability, & balance are a perfect fit for golfers.
I started my pilates journey in 2009, at the center. An injured friend of mine asked me to accompany them to the studio. I was there for moral support, and didn't expect it would do anything for me physically. At the time I was an avid runner, but had recurring low back pain and foot pain that I chalked up to "getting older". After doing pilates twice a week for three months, I no longer felt pain in my back of feet after long runs. I was able to turn on my core and improve my posture. Plus my body looked great! I became a regular client and then an instructor. I wanted to share what I had learned and to show people there is a safe, effective way to build strength and flexibility (and to look great!) without getting injured.
Growing up I was very active, and I swam competitively. Currently I love to play and watch golf.
Prior to teaching Pilates I was a stay at home mom of 3 children. I volunteer with the cheerleading and football programs at Walton High school & Walton Junior programs.
I have a Bachelor of Fine Arts from University of Georgia and graduated from the Portfolio Center with a concentration in Graphic Design.
WorkIng with Lia has helped my golf game. I have become more flexible, have better posture and am mentally ready to play better for a long time into the future. A recent study shows golfers live 5-7 years longer than Non golfers and my goal is to play till I'm 100! Preposterous you say? Lia thinks I can so it and she is the Guru I want to keep me on the path!
look no further. get started today.
the center is located just north of the chattahoochee river
Convenient to East Cobb, Sandy Springs, Marietta and Roswell
910 Marietta Highway
Suite 220 upstairs
Roswell 30075
770-862-5674
Look for us in Paper Mill Village, across from Moxie Burger