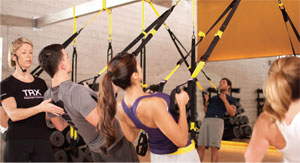 the center in Marietta will host a TRX Certification and Training workshop on Saturday, October 26 from 11:30am-7:30 pm.
Participants will learn the fundamentals of TRX® Suspension Training® bodyweight exercise and how to incorporate them into your own training in this introductory eight-hour course. The training is open to fitness enthusiasts and fitness professionals alike. You'll receive a comprehensive training manual. Plus, participants receive a generous discount on TRX trainers and DVDs the date of the course.
If you are considering teaching TRX or just want to add it to your exercise routine to its full potential, I highly suggest taking a TRX Professional Education Course. The class was outstanding. I LOVE the TRX even more than I did before!"

Julie Albert

Fitness Enthusiast
Register Here
(Choose "Georgia" from the pull down box and then choose the center.)
Use code CORE1 to get $50 off!