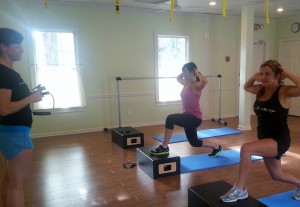 the center  in East Cobb has an opening for a part-time, personal trainer in our Marietta studio. The position will begin on May 15 however interviews are being conducted immediately.
The personal trainer position requires the ability to work from 7 am to 12 noon on Mondays and Thursdays in our Marietta studio.  It offers the opportunity to come on board and have a full training schedule of dedicated, regular clients. Additional days and hours are available.
The ideal candidate should have a nationally recognized personal training certification (i.e., ACE, NASM, AFFA,ACSM, etc..), CPR certification, and be a graduate or expect to graduate with an Exercise Science degree in May 2014. Prior personal training experience is required.  In addition to degrees and certifications, the candidate should have excellent communication and rapport building skills.  Customer Service, athletic participation, and leadership experience are a plus.
Interviews consist of several conversations, followed by a practical interview where you will conduct a personal training session with the East Cobb studio staff.
This is a contract position. Pay commensurate with experience.
Please forward your resume along with three references to the studio email at info@thecenterpilates.com.  For more information about the studio, visit www.thecenterpilates.com and https://www.facebook.com/thecenterpilatesstudio/