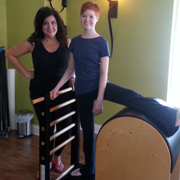 Over the past year, Espe  had suffered health problems which zapped her energy and her strength. She began Pilates in June as a way to improve her strength so she could return to her beloved dance classes.
"I started Pilates with the hope to become healthier and it definitely did," says Espe.  What she enjoyed most about the center was the "one-on-one work because that way the sessions were customized to what I needed to work on and I improved a lot over a relatively short period of time."
After three months, Espe is returning to Sarah Lawrence College, where she is studying animation. Best of all, she is now strong enough to return to dance.
Her recommendation to anyone considering Pilates is to "definitely come in and try Pilates.  It's a great habit to get into."