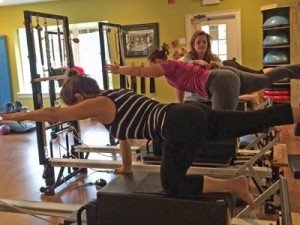 Semi-Private Equipment lessons offer a personalized experience on the Pilates reformer, chair and tower machines.  The machines help to lengthen and strengthen the entire body.
the center Fall 2015 schedule:
Monday
9:00 am Essential Equipment
10:00 am Intermediate Equipment
6:00 pm All Levels Equipment
Wednesday
8:00 am All Levels Equipment
10:00 Intermediate Equipment
Thursday
9:00 am Essential Equipment
Friday
10:00 am All Levels Equipment
Saturday
9:00 am All Levels Equipment
What Makes Our Reformer Lessons the Best in Town?
SMALL class size – We are the only studio in town which limits pilates reformer classes to a maximum of four participants. This ensures that your instructor can provide you with meaningful suggestions to get the most our of every exercise.
Creative Programming means your body is always learning new movements and your muscles are continually challenged.
The revolutionary STOTT PILATES V2Max Plus Reformer is like no other Pilates Machine.  The dual pulley system allows for greater range of motion, maximizing your flexibility.
Purchase 24 Equipment Lessons @ $35 each
Purchase 12 Equipment Lessons @ $37 each